Local Bus Systems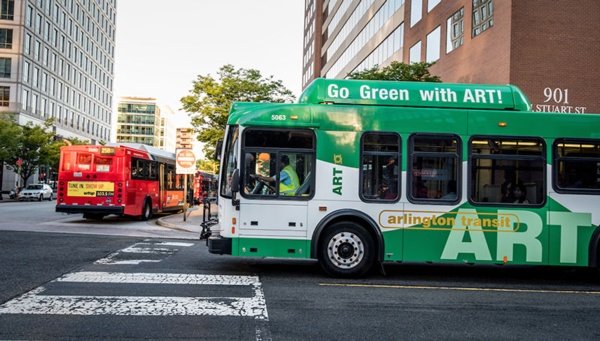 ---
Local bus systems, listed below, extend public transportation into more neighborhoods than are served by Metrorail, Metrobus, or long-haul services such as MARC, VRE, and commuter buses.
The bus systems listed below are operated by local jurisdictions. In the close-in suburbs of Washington, DC, these local bus systems supplement Metrobus, the area's regional bus system.
ART-Arlington Transit
ART operates within Arlington County, providing access to Metrorail and supplementing Metrobus with smaller, neighborhood-friendly vehicles. SmarTrip® accepted.
CUE-Fairfax City
The Cue Bus runs seven days a week within the City of Fairfax. It also services the Vienna/Fairfax-GMU Metrorail Station and George Mason University. SmarTrip® accepted.
DASH-Alexandria
The Alexandria Transit Company's DASH system operates within the City of Alexandria and connects with Metrobus, Metrorail, Virginia Railway Express, and the Fairfax Connector. DASH serves all Metrorail stations within the City of Alexandria and the Pentagon during morning and evening peak periods. SmarTrip® accepted.
DC Circulator
Designed to take you to Washington's cultural, shopping, dining, and business destinations. The Circulator provides frequent service on several routes, and only costs $1.00 or $.50 for senior/disabled. SmarTrip® accepted.
Fairfax Connector
The Fairfax Connector bus system runs seven days a week with service throughout Fairfax County and to Metrorail Stations on the Orange, Blue, Yellow and Silver lines, including the Pentagon. SmarTrip® accepted.
King Street Trolley-Alexandria
Free service between the King Street Metro station in Alexandria and Alexandria's Potomac River waterfront.
Maryland Transit Administration (MDOT MTA)
Bus, light rail, and subway services in Maryland. SmarTrip® accepted. MTA issues an electronic farecard called "CharmCard®" which also works on systems that accept SmarTrip®. MTA also operates commuter buses and MARC commuter rail; these systems do not accept SmarTrip or CharmCard.
PRTC OmniRide
Local and commuter bus service offered by the Potomac and Rappahannock Transportation Commission (PRTC). Local routes serve Dale City, Dumfries, Manassas, Manassas Park, Quantico, and Woodbridge. SmarTrip® accepted.
Ride On
Montgomery County, MD local bus service. SmarTrip® accepted.
RTA - Regional Transportation Agency of Central Maryland
Fixed-route and paratransit service for Howard County, Anne Arundel County, City of Laurel, and northern Prince George's County.
TheBus
28 routes operating throughout Prince Georges County, Monday through Friday. No service weekends and major holidays. SmarTrip® accepted.