Be a PAL - Share Our Streets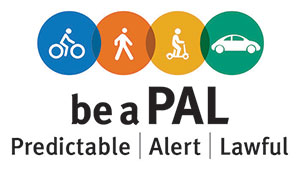 Leer contenido en español • This content is available in Spanish
More people in Arlington are getting around by bike, by scooter, and on foot. While this is great news, it does come with one little caveat -- and that's something we were all taught by our parents when we were kids: SHARING. The streets don't belong to any one of us, they belong to all of us and so we have an inherent responsibility to share the streets with everyone else using them... in a courteous and safe manner.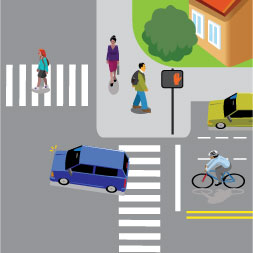 The PAL campaign wants everyone to know how to easily and safely share the streets with others, and that's by being a PAL -- Predictable, Alert and Lawful. If more people know about being a PAL and the importance of sharing the streets, we can all benefit from a safer and more enjoyable journey, wherever our destination might be.
So whether you're on two feet, two wheels or four wheels, we all need to share our streets safely. Arlington County has developed the PAL program for those who drive, walk, bike, and use a scooter.
Being a PAL means being:
Predictable – travel in a predictable way; don't make sudden, unexpected moves
Alert – pay attention to your surroundings and to others around you
Lawful – obey the traffic laws, whether in a car, on a bike, on a scooter, or on foot
PAL and E-Scooters
E-scooters have been added to the mix of walkers, bikers and drivers. When riding a scooter, remember the rules of being a PAL still apply. E-scooters are to be ridden in the bike lanes or lane of travel and on sidewalks or trails unless there is signage prohibiting their use. More information about Shared Mobility Devices (SMD) in Arlington can be found here.
More About PAL
PAL two-page spread from January-February 2013 Citizen newsletter. (PDF, 2.4 MB, Adobe Reader required.)
Each of us finds ourselves as a driver, cyclist, or walker at some point. Do our perceptions change with each mode? Watch this video to see how to be a PAL with the driver, cyclist and walker in all of us.