Car-Sharing
Want to run errands at lunch? Have a business meeting? Spouse has the car for the day? Try car-sharing.
A car-sharing membership is a great resource for people who occasionally need a car but don't want the expense and/or trouble of car ownership. Car-sharing programs provide access to a fleet of vehicles for short term use (priced by the hour or even minute), located conveniently throughout the community and with most or all costs (gas, insurance, etc.) bundled into the rate. In essence, car-sharing transforms the automobile from a product with high fixed costs into a service with costs on a time or mileage basis. When used in conjunction with public transportation, walking or bicycling, car-sharing can reduce or eliminate the need to own a personal vehicle. For families, car-sharing can postpone or eliminate the need to buy a second car. For businesses, participation in a car-sharing program can reduce or eliminate the need to store and maintain company cars, or to require employees to bring their personal cars to work.
Car-Sharing Benefits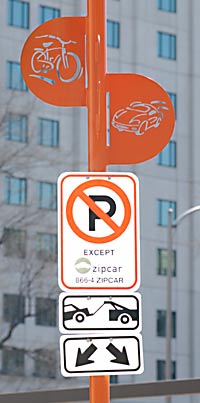 Some important benefits of car-sharing include:
Lower demand for parking. Surveys consistently report that each car-sharing vehicle replaces as many as seven or more private cars, as members sell or scrap their cars, or avoid buying new ones. When fewer cars need to be parked, it makes parking easier for cars that still do.
Fewer miles driven and emissions produced. While surveys suggest that car-share members are often infrequent car users to begin with (taking advantage of other transportation options available in urban areas), once people start car-sharing they report driving less. Car-share vehicles also tend to be newer and more fuel efficient than the household cars they replace, which means fewer emissions produced for each mile driven.
Lower transportation costs. For people who drive infrequently, the fixed costs of car ownership are a majority of the costs associated with driving. By switching from personal car ownership to car-sharing membership, these infrequent drivers could save hundreds or even thousands of dollars a year.
Personal non-monetary benefits of car-sharing include:
New vehicles (reliability and comfort)
No maintenance or repair responsibilities
Vehicles always clean
Different vehicles for different purposes (whereas private owners have the same car all the time)
Convenient locations where people live and work
Guaranteed parking space (*not all business models)
No filling up the gas tank (*not all business models)
Car-Sharing Service Providers
Reserved-Space
Zipcar - Hundreds of Zipcars are parked in convenient locations throughout the region. Members reserve a nearby car online or by phone, then use an electronic membership card to unlock the car. The rental period can be as little as ½ hour for one-way trips, where members return the car to a different reserved parking spot, or one hour for round-trip, where members return the car to the same reserved parking spot where they picked it up. Zipcar members can also use their membership in the many other cities in the U.S. and abroad that Zipcar serves.
Peer-to-Peer Car-Sharing
Peer-to-peer car-sharing programs provide a means for car owners to rent out otherwise underutilized personal vehicles. These programs typically screen would-be drivers and provide insurance for the car owners in the event that their car is involved in an accident while being used by a car-sharing member. Examples of existing peer-to-peer networks include:
Getaround - Rent a car from someone nearby.
Relay Rides - Rent cars from people near you.
Car-Sharing Resources
Arlington County, Virginia's Car-sharing page
Arlington's Car-Free Diet Car-sharing page