SmarTrip & SmartBenefits
SmarTrip® and SmartBenefits® are programs of the Washington Metropolitan Area Transit Authority (WMATA).
SmarTrip® Card
SmarTrip® is a convenient way to pay transit fares using a rechargeable plastic farecard with an embedded computer chip. Fare value is stored on the card, and fares are automatically deducted each time you ride. SmarTrip is accepted on Metrorail, Metrobus, local bus systems, and some commuter buses. Metrorail fares must be paid with a SmarTrip card. Paying fares with SmarTrip is fast and convenient, and can also save you money. Some transit systems offer a discount for passengers using SmarTrip, and additional discounts when transferring within the system or between transit systems. (Area transit systems no longer issue paper transfers -- discounted transfers are only available with SmarTrip.) You no longer need exact change or a token to ride the bus -- just tap the farebox with your SmarTrip card. Senior SmarTrip cards for those over 65 offer a reduced fare. The iRide Student SmarTrip card gives Arlington County students a reduced fare on the ART bus. More information from ART. More information from WMATA.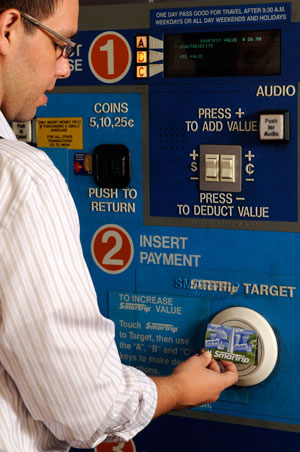 SmarTrip cards can be purchased from CommuterDirect.com, The Commuter Store, and the Mobile Commuter Store, from Metro sales locations, and at Metro stations.
Fare value can be added to SmarTrip cards in Metrorail stations, on Metrobus, at any Commuter Store location, and at other retail locations that have a SmarTrip point-of-sale device. More information from WMATA.
SmartBenefits
SmartBenefits® is a program that allows employers to assign commuting benefits directly to employees' SmarTrip cards. More information from WMATA.
CommuterDirect.com makes it possible for customers to apply SmartBenefits to purchases online and at all Commuter Store locations with a SmartBenefits Personal Account. One great advantage of this service is that customers can purchase tickets and passes for transit services that don't accept SmarTrip cards, including MARC and VRE commuter rail and MTA Commuter Bus. To participate, you will need a SmarTrip card and your employer must have you registered in the SmartBenefits program. More information from CommuterDirect.com.