Ways to Get Around the D.C. Area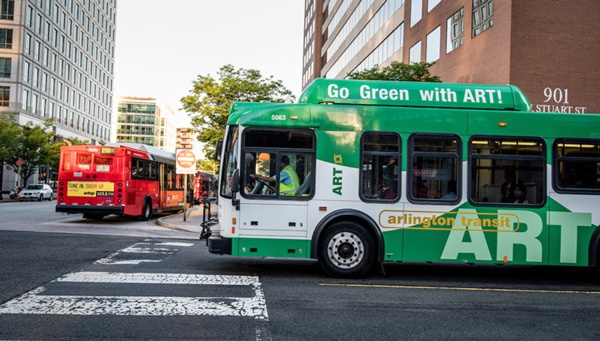 The Washington, DC area supports a wealth of transportation options other than driving alone. In fact, about forty percent of all trips in the area are made by some means other than single-occupancy vehicle (SOV) trips. Still, as the area's population grows, we will need to reduce the percentage of SOV trips even further, and increase the use of other options, to avoid gridlock.
Transportation options include:
The Metro System –- Metrorail, Metrobus, and MetroAccess. Metro is a regional system serving the District of Columbia and jurisdictions in Virginia and Maryland. Metro is operated by the Washington Metropolitan Area Transit Authority (WMATA) and supported by local jurisdictions.
Local Bus Systems -- Each jurisdiction operates its own local bus system. In areas served by the Metro System, local bus routes supplement Metrobus and Metrorail service.
Commuter Buses –- Longer bus routes designed to carry commuters from outside the beltway to and from jobs in DC and the close-in suburbs.
Commuter Rail –- MARC and VRE rail service. MARC operates between Union Station in DC and points in Maryland. VRE operates between Union Station and points in Virginia. Both provide weekday service aimed primarily at commuters.
Intercity Rail & Bus -- Amtrak, Greyhound, Bolt Bus, etc. Long-haul bus service.
Walking -- A healthy and environmentally-friendly way of getting around, and an important transportation mode.
Bicycling -- A growing percentage of trips in the area are bike trips.
Shared Mobility Devices -- Docked and dockless bike-sharing and dockless scooters.
Multi-Use Trails -- The DC area has an extensive trail network, used by bicyclists and pedestrians.
Telework -- Or telecommuting. Working from home or a satellite office one or more days per week.
Carpooling -- Carpooling, vanpooling, slugging.
Carsharing -- Zipcar, Peer-to-Peer Carsharing.
Taxicabs, Uber, Lyft -- Taxicabs and ride-hailing systems are important supplemental and backup options for people who carpool, bike, walk, or use public transportation.
Paratransit & Accessible Transit -- Services for people with disabilities.